When we think of a farmhouse inn, we think of a good meal on the farm… We often forget that behind this image lies the essence of a farmhouse inn. From the cliché of the cordon bleu chef, let's move on to these 'micro-entrepreneurs' of the countryside, these farm managers. Let's meet 4 women – and yes, there are women in the valley who "boil the kettle", who have their heart and soul in the soil and, we don't think about it, contribute to the upkeep and preservation of our precious landscapes.
Colette, 53, from Natzwiller : she set up her farm in 1993 on the estate and within the walls of a former textile factory that had originally been converted into a hotel. On 13 hectares of land, she rears no fewer than 1,500 free-range poultry: cockerels, geese, hens, guinea fowl and ducks, and runs a 75-seat inn with a master's touch. Her husband is her partner in crime. As well as looking after her farmyard, Colette spends her time processing the farm's produce into terrines, foies gras, preserves, syrups and other homemade specialities. Colette has a real passion for cooking with plants, which she picks in the spring to enhance the flavour of her dishes. In addition to her talent as a cook, she is an accomplished naturopath. For Colette, there's no time to get up and no time to go to bed. Nature sets the pace for her days. At Colette's, every dish and every plant has a story to tell… and she never fails to tell it as she sits down to dinner.
You can't resist: the Baeckeofe with poultry, the homemade Black Forest Kirsch.
Ferme auberge du Charapont in Natzwiller – + 33 (0)3 88 97 98 46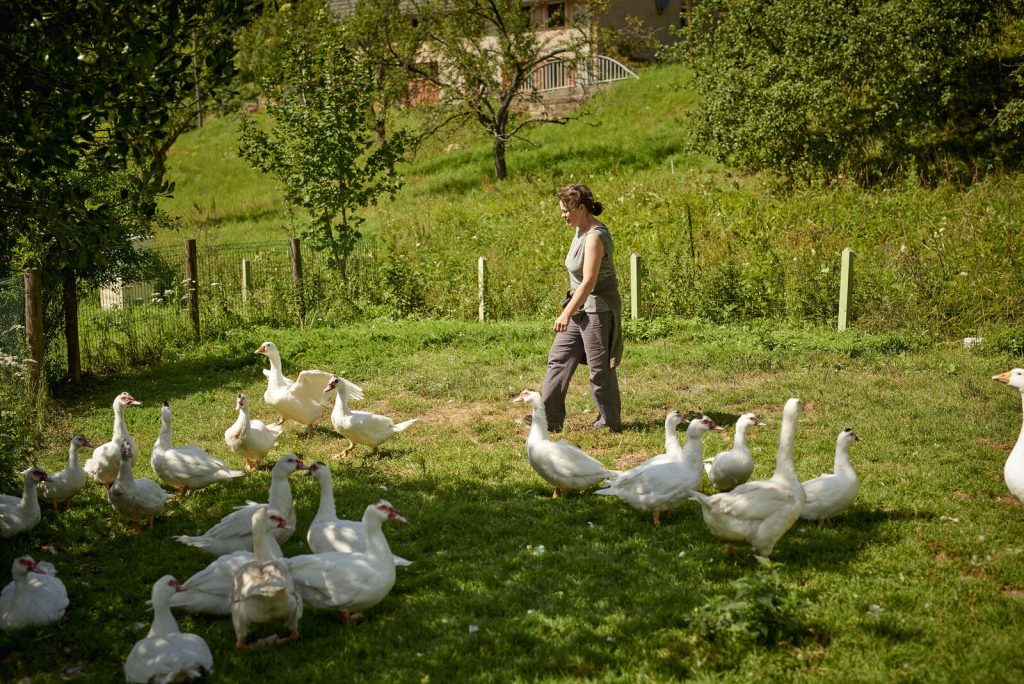 Colette in her garden at the Ferme-Auberge du Charapont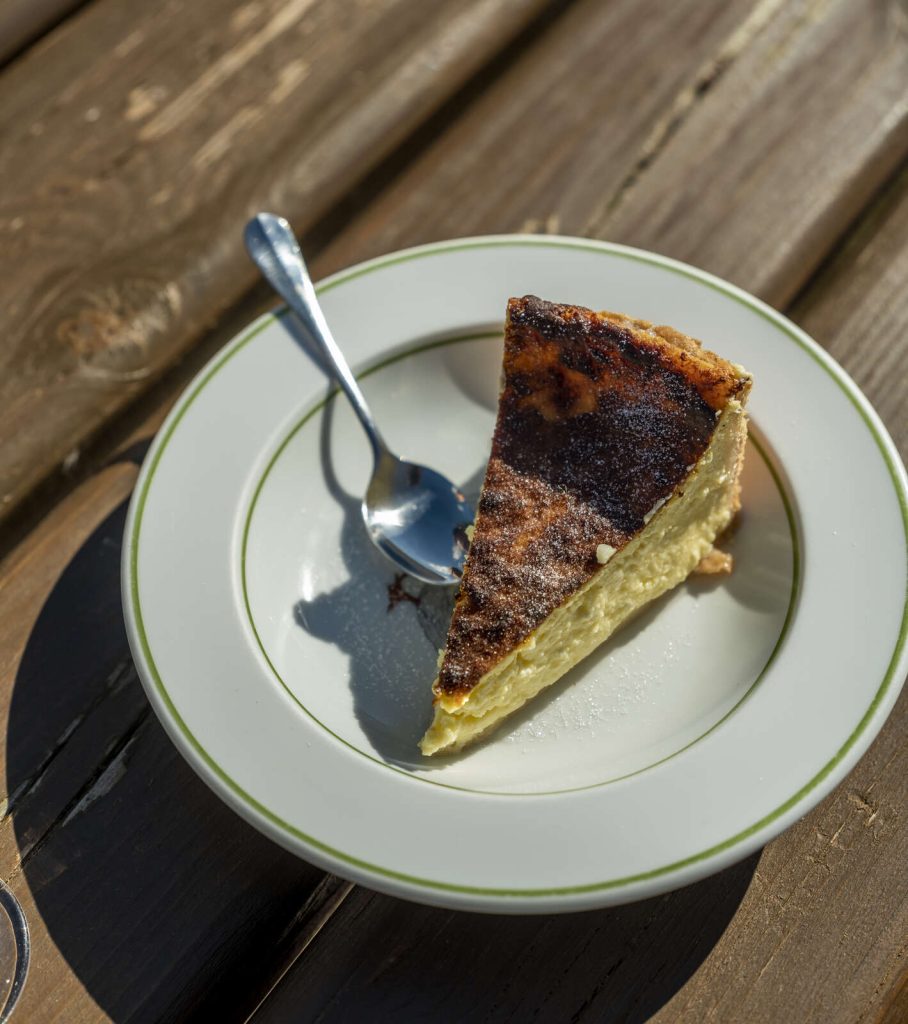 The cheesecake at a farmhouse inn
Isabelle, 52, at Le Bambois in Plaine : since 2005, she and her husband have been running the 60-hectare farm with 60 Limousin cattle, 50 pigs and a 75-seat guesthouse on the edge of the forest… Since her earliest childhood (at the age of 10 she already had her nose in the cooking pots) she has worked in gastronomy and agriculture. Like her colleagues, she is the embodiment of "multitasking": farmer's wife, butcher, butcher, cook, accountant, innkeeper, cleaner and … housewife and mother. Her day starts at 5 o'clock in the morning with the "paperwork" and ends on some evenings when the last guests get up from the table … And "if need be" … the children come to help.
It's impossible to resist: the divine sausage platters, the veal osso bucco and the peasant potato pancakes.
Ferme auberge du Bambois in Plaine – +33 (0)3 88 67 60 82
Corinne, 53, from Ranrupt : she took over the farm and the 40 ha of the family farm in 1998. She rears poultry, Highland and Vosgienne cattle, pigs and lambs. Her crack team: her son, to whom she has passed on her passion and the tricks of the trade, and when her schedule allows, her companion. Milking and feeding the animals at dawn, then processing the farm's products into cheese, cream, butter and meat. From there, she moves straight to the inn's stoves, then joins the first visitors to whom she extends a warm welcome, and lends a hand in the dining room to ensure that everything is taken care of… And let's not forget the upkeep of the vegetable garden, because a farm inn really is 'from field to plate'. And as the day draws to a close … back to the cowshed for milking and feeding. And when there are births in the stable, we also get up at night. Quite a day!
We can't resist: the coq au vin and the meltingly creamy potatoes.
Ferme auberge du Promont in Ranrupt – + 33 (0)3 88 97 62 85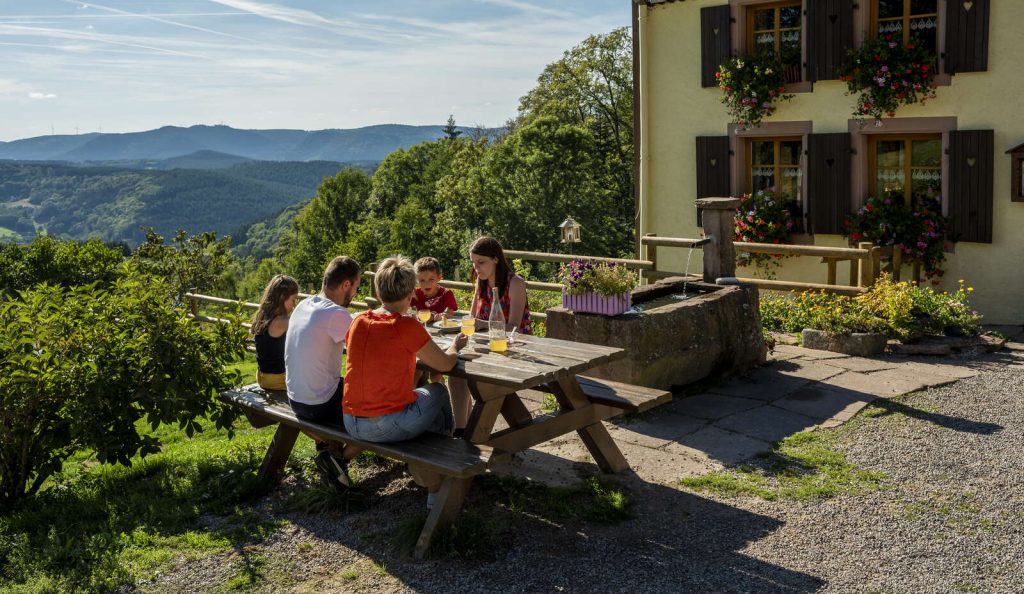 Outdoor meal at the Promont farmhouse inn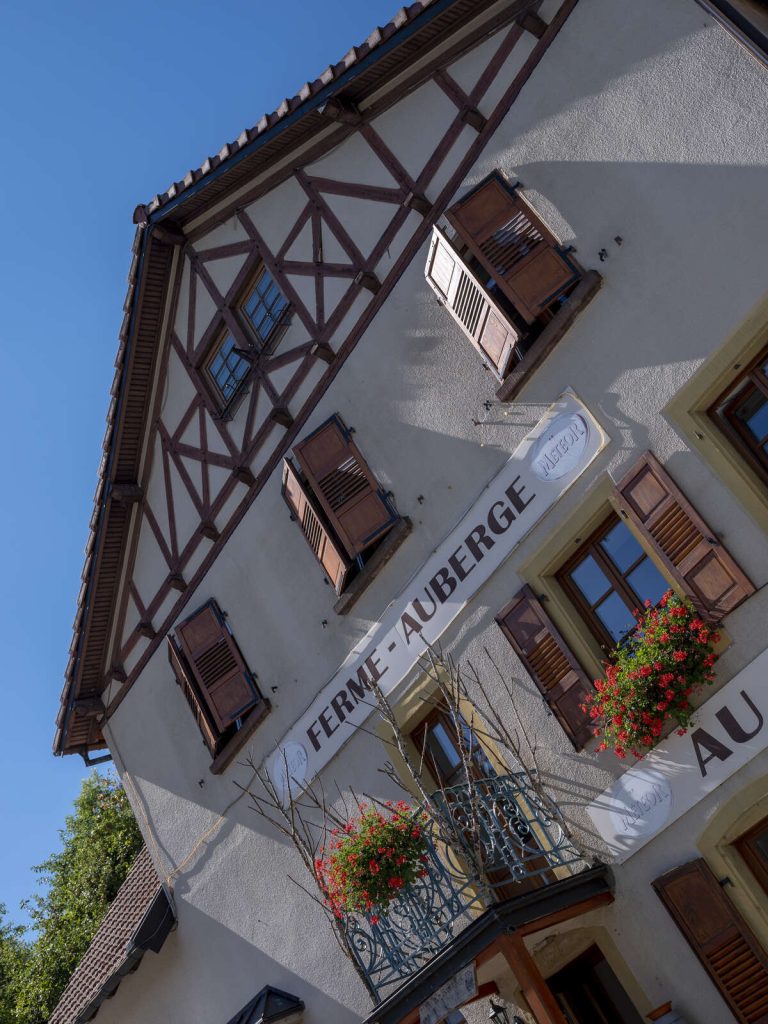 Ferme-auberge du Ban de la Roche
Véronique is 61 years old and lives in Bellefosse : She has run the 60-hectare farm and farm inn since 1991. Her herd includes 30 Limousin cattle and a few pigs. She is surrounded by a crack team: her son, her daughter-in-law and her husband. Véronique fell into the cooking cauldron at the age of 14, and although she spends most of her days cooking up her tasty dishes, she also puts her hand to the grindstone, or rather to the cutting and processing of meat, and makes sure that her 5 five guest rooms are spotlessly clean and comfortable. Her days start 'early' and often end when the last guests go to bed, i.e. 'on the dot'..
We can't resist: the "beef carrots" and home-style sautéed potatoes
Ferme auberge du Ban de la Roche in Bellefosse – + 33 (0)3 88 97 35 25
Finally … Gentlemen, don't take offence, but they're well worth a "hat"! And through them, "hats off" to all those who wear the colours of the Bruche Valley and their incomparable art of entertaining.
For more information: www.bruchevalley.com
Photo credits : © OTVB / Stéphane SPACH